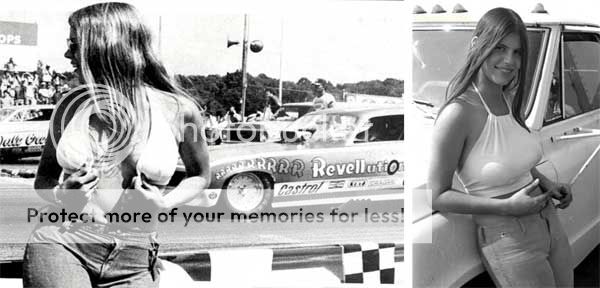 If you follow the vintage Funny Car drag racing scene at all, you already know who "Jungle Pam" Hardy is. If you don't, let Pam drop some knowledge on you, herself, right (here). Suffice it to say, Pam's probably the most recognizable face (face, boys) of the wild Seventies Funny Car scene to ever grace the track.
We've known Pam for ten years now, starting when we published a feature on her in the premiere issue of our first magazine in 2001. And, it's been a real treat to see the interwebs blowed up with her story since then. Now, there's a black-and-white image that's been floating around online of a girl at a dragstrip with a mischievous grin on her face as she looks off-camera over her right shoulder and holds the unhooked halves of her bikini top (see above left). She's been mistakenly identified as Pam, for obvious reasons (see above right for the real Pam Hardy of the same era). And while we wish we had a snapshot of what happened either a moment before or a moment after this image on the left was made, we also wish we knew who the hell this mystery girl is.
Pam has irrefutably stated that this girl is not her. But that begs the question, "Well, then who is she?" Thoughts? Are you reading this right now, Mystery Vixen? Will this girl continue to rule our dream realm with the Staff Of Mystery? Is she serving melon balls wrapped in thinly-sliced bacon with mimosas of cheap champagne and boxed orange juice at this very moment on the smoothly-poured concrete slab deck of a non-descript backyard somewhere in the American South? Will she be revealed to us?
Chime in if you have any leads. We wanna talk to her…