Epic.
We're not given to over-promising on a car show. In this Rust-N-Rockabilly-Kustom-Kar-Riot!!!!-every-weekend age of fairgrounds car shows with staged burnout contests, shitty rockasilly bands, even shittier pinstriper panel jams and some of the most embarrassing examples of bad taste in hot rods and customs, we find ourselves aching for the legendary vibe of the old Paso Robles, CA West Coast Customs show. Until this past weekend in Salinas, CA with Cole Foster. And that's right: we said EPIC.
California – the undisputed cradle of American automotive culture – can produce a quickie get-together car show in a In-N-Out parking lot just about anywhere within its borders and there's a good chance a 1960-something Car Craft magazine cover car might show up to blow your mind. That's just to be expected. But, even here, some things have gone…well, weird. Steve Sellers' copper seaweed-flamed shoebox at Billetproof has been replaced by an orange Rhino-lined H2 rolling 26s. At Billetproof. We've seen that shit.
So, when Cole called and said he was putting on his first World Championship show on Cinco De Mayo at the Salinas Sports Complex, visions of fucking good taste danced in our heads. And we could only imagine who was going to be there — not unlike the Paso of Olde, Salinas is perfectly situated on the Central Coast: easily accessible by both Northern and Southern California, ripe with its own awesome mix of lowriders, customs, choppers and historic race cars and, of course, the mythic Salinas Boys.
And right there, among the AMA TT races and the Norteno bandas and the lifted Silverados and the lead-lined Mexican lollipop hawkers, the most influential heavies of our generation of underground car culture got together on a perfectly crisp Saturday afternoon.
Bold statement, right? Damn right. The fact that the cars and bikes assembled were about as perfect as we've seen in the last five years was trumped only by the souls who showed up – one begat the other, we guess…
Cole Foster
What can we say that hasn't been said about Cole a million times already? He's built some of the most timeless, tasteful, era-defining custom machines of our generation. That '54 Chevy? The one he just calls "the blue car?" Google that shit and you'll see exactly what we're talking about. Now, the other thing about Cole is that the real game-changers –– the builders and artists and people you might not realize have paved the way for you –– are all friends of his. And a good number of them showed up at the Sports Complex…
Jeff Decker
We'd call Jeff the greatest living sculptor of underground motoring, but he may be the only sculptor of underground motoring. Nomad of the legendary Sinners Brotherhood Of Love And Friendship, Decker is an artist, a biker, a collector, a hotrodder, an art historian, a cultural anthropologist and a real renaissance man. Like he hasn't heard all this shit before. But anytime we can sit at a car show and talk about the details of Roman art and architecture of the Vatican, well, that's just something we don't take lightly. Right on.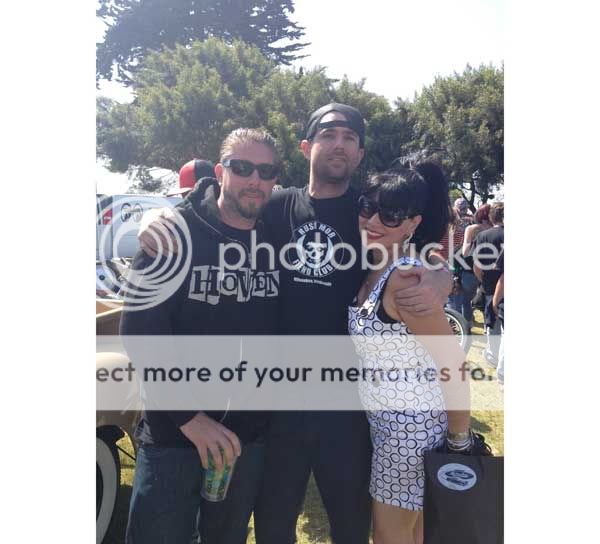 Kutty Noteboom
Son of the custom car/bike/boat builder and man-about-town, Jim "Bones" Noteboom, Kutty has been building his own customs and choppers for the last 20 years, too. Known for building the Hippy Killer custom chop out of his garage that bears the same name, Kutty's been building some of the best era-correct bikes and attracting the same to his Hippy Killer Hoedown put on every summer.
Rico "Father Fury" Fodrey
Rico was there at the beginning, dropping bombs and influencing people since the Eighties. He was customizing Harleys by stripping them down in the spirit of the bikes he had seen in Europe as a band tour manager in the days when, sadly, it meant bolting more chrome shit onto them to most people on this side of the pond. He was also introducing kids like Jason Jessee to cultural forces like Mark Mahoney and we've alll benefited from liaisons like these.
Jason Jessee
There's only one Jason Jessee. Ever. He changed skateboarding and what it meant to be a pro skater. To those who know, he changed our generation of custom choppers with his Black Tibetan in the early Nineties. He's a true outsider. A real outlaw. First outside guy to join The Dukes car club. He's also a pretty amazing artist and got himself on the no-fly list. It's rare to see him at a car show, but he was there on Saturday.
Dean Micetich
Half of the chopper pocket-mag, DiCE, that has forced the big, old "outlaw biker" magazines to deal with actual outlaw bikers. Dean is also doing his part to preserve hot rod history with his Deuce 3-window, his B-movie reviews and his general appreciation for the fucking trailblazers who made all this amazing shit possible for us today. Dean and his partner, Matt, have done more for correcting biker culture over the last 6-8 years than just about anyone else and we can thank them profusely for that.
Alex Gambino
"Cars saved my life." If you've ever talked to Alex about building hot rods and customs, it's one of the things he'll tell you and we believe it. His Gambino Kustoms in San Jose, CA has become a base of operations for one helluva travelin' man and it's hard to find a show Alex won't drive that tangerine fade "Fuck You '54″ chopped Chevy to. And one of the most likable personalities of our generation of underground car culture.
Brandon Casquilho
Another one of the most talented fabricators we know, Brandon's a mindfuck of wit, weld, New Wave discography, counterculture history, good taste and a wicked eye for stance and proportion. Working out of the infamous Iron Triangle in the even more infamous Richmond, CA, Brandon's been building some wickedly perfect bikes and we think there may even be a car project in his shop these days. Watch the fuck out. He's also a Salinas Boys alum and one of our favorite builders of our generation. Dig on that.
Job Stevens
The Silent One. If you look closely at any snapshots from the legendary Paso shows where Cole was spotted with a bike or a car, Job was either in the shot with him or one of his bikes was. Job has always been there, defining our scene with his own brand of awesomeness and combination of talent and Central Coast laid-backedness. But he'd rather build something and then hang out in the background, quietly watching people lose their collective shit when they see what he's done than have a camera toward his general direction.
Aaron Elliott
You wanna know what the next generation of bombdroppers looks like? Well, you need look no further than Salinas Boy The Younger, Aaron Elliott. He was there on Saturday with his bitchin' little Honda CL350 and it was a real diggable little planet. We remember when Aaron showed up at Cole's old shop across town years ago and the kid's been through alot since then. Watch for plenty more from Aaron as he makes a name for himself.
Juan and Deadend Magazine
A close second to Alex Gambino as far as travelin,' ramblin' men, these guys are EVERYwhere. And believe this: nothing happens in Salinas without these guys showing up or at least having something to do with it. Juan and Co. have a good style and its defining the great stuff that's coming out of the Central Coast.
Shige Sumanuma
Owner of the one and only Mooneyes, Shige personifies the Japanese fascination with American car culture. And we couldn't dig on him more for it. See, the thing about the Japanese is that they have the uncanny ability to see the value in some of our really cool shit when it all goes up for sale. And we can't thank Shige enough for supporting the people still creating it.
Dan Collins
Dan was there at the beginning. Right there when we started this hot rod revival movement back in the late '80s. He was there with his cars and his bikes and his art and his tattoo studio and his shop –– always adapting and always refining his skills. Now, you'll find him in Ventura at his Old Gold Garage and the place just oozes good taste and good style. Make a trip and he'll take you on one. We can dig that, too.
There were so many more: Joe Hickenbottom, Eric Clay from Element Case, Jen Lee, Davey Beardo, Carlos from Sinners Inc., the list goes on. Will we see this same crowd again anytime soon? Doubtful. Like we said; the last time we were all together like this was Paso.
We're hoping Cole does it again next year. And we'll fucking be there. You?