So, we waded through all our lists and your lists and we pretty much stayed up all night pounding Mission hot dogs and cheap whiskey and had one of those corkboards crammed with about a berflillion scraps of paper and photos a la Russell Crowe's Jersey HQ in "American Gangster." Dig it.
And we came up with our Top 10 all-time greatest cars of the last decade. What does this mean for you? One way to look at it is as the best private car show on the planet. Or that we're only half-right. Or wrong. Yet another way to see this list is an assemblage of cars built and/or finished between 2000 and 2009 that were genre-defining. Or set the pace for a whole new approach to the category. Or a whole new category. Or that was so influential, it launched a thousand other inspired (some would say copy-cat) builds.

You'll see a few of the same models, but that just couldn't be helped. We took into consideration a few categories: customs, hot rods, showcars and overall genre-definers. We didn't nix a car simply because there was another make/model just like it. So, there's that. And really, we didn't include any restorations. We feel like those cars already made their moves the first time around and didn't count for this list.
So there you have it. And have at it –– we hope you like. But, hey, whittling down this list to ten was like trying to make a mix tape for the hottest girl in class. And you've only got a 30-minute cassette.

Aaron Von Minden's '30 Ford Model A coupe
This coupe's a bare-metal bad-ass. Blown small block with 6x2s on top and a 4-speed. Super rare E&J headlights up front, unique trunk louvers out back and big, musky, brutish balls in the middle. Aaron's driven this thing to just about every car show on the West Coast and has upset small children and made improper left turns every chance he gets. We love this car because it's a solid example of using time-tested, good, "traditional" hot rod parts to build an ass-kicker the way hot rods were supposed to be.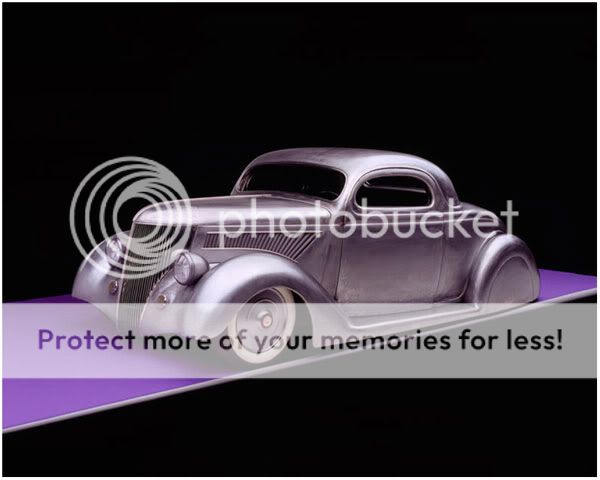 Kirk Hammett's '36 Ford 3-window coupe by The Salinas Boys
Master metalsmith Cole Foster started out with two coupes to build this one 3-window for Metallica's Kirk Hammett. And we'd like to make the point that we're listing the bare metal version of this car, not the painted one. Nothing against the oil-black perfect paint job, but the metal work is so amazing on this car that we just super loved it when Steve Coonan shot it for The Rodder's Journal in its nude beach trim. We love this thing for the reasons we love Cole: impeccable taste and real power under the cool, soft-spoken shell. We've seen Cole Rockford this thing within an inch of its perfect fender skirts and haul ass at around a buck-thirty. No joke.

Mister Cartoon's Lowrider Ice Cream Truck
SA Studios partner, Lifestyles CC member, Last Laugh proprietor and master tattoo artist Mister Cartoon threw everything he had at this one-of-a-kind ice cream truck and we think it's the most important lowrider build of the last decade. Dig this: not only does it have a paint job worth six digits and a hi-def plasma screen/audio system worthy of any Imax theater, he even had one-off Mister Cartoon ice cream made and drove this thing around the 'hood to hand it out to lucky youngsters. We love the Cartoon ice cream truck because not only is it the ultimate "Big Perm" lo-lo, but it reaches the crowd in ways no other car can. Y'know, for the kids and shit.

Dave Lohr's '30 Model A coupe "Death's Doorstep"
Dave Lohr built this little sucker a few years ago and launched more than a few copies since. The unique flat creeper stance of this hemi-spun, digger-esque street racer proves that scene-changing cars can come out of the Midwest. Ohio, to be exact. Dave's talents as a builder on this deal landed him a spot on Jimmy Shine's TV show a couple years ago and he's built a few high-toned sons-a-bitches since. We love Death's Doorstep for its overall insane commitment to real dragster style: the engine setback, the 18″ spindle-mounts and lack of radiator up front, slicks out back and an unchopped but heavily channeled Model A coupe body. Love it or hate it, you can't deny that more than a few people have copied Dave's style since Death's Doorstep hit the street. And its influence is one of the reasons it made the list.

Keith Tardel's '36 Ford coupe
When master hot rod builder, Keith Tardel, set out to build a full-fendered custom, he did what he was naturally prone to do: a supercharged, Ardun-topped flathead-powered beast capable of brutal speeds and stuffed full of style to boot. With its one-off smoothie wheels and carefully engineered race guts, this black beauty is so indicative of the Tardel approach to cars. We love this thing for its collection of rare parts, unique header treatment with four tips emerging from each front fender and overall attitude that dares people to merge drag race guts with tail-dragging customs. Who says a full-fendered car has to run its wheezy six-banger to be a custom, anyway?

Aaron Grote's Atomic Punk"
When Aaron Grote unleashed his full custom, Sixties era-inspired bubbletop showcar on the hapless minions, he not only put his incredible skills and personality to the test, he galvanized the loosey-goosey emerging revival of wild Sixties-era paint and showcar trends. Yup, it's a Hemi. Yup, he made the dang bubbletop. Yup, he re-appropriated the '59 Plymouth tailfins. Yup, the grille piece is hand-formed. We love this the Atomic Punk not only for its tip-o-the-hat to the beloved Sixties, but that only Aaron could bring David Lee Roth's sensibilities to the game. And we also love his quote on his website: "We were going to patent our own energy drink but upon further research, cheap beer is available everywhere so we decided that we couldn't fill any particular niche in the marketplace." Sums up his approach to cars and life, right there.

Pat Lash's '29 Ford Model A roadster
Pat Lash made a name for himself when his no-hood, lime green Chevy longroof hit the scene in the early part of the decade. But his extremely well-constructed roadster with its signature body-length, upswept chrome pipes really made waves. We couldn't find a good shot of what lurks under the gennie body, but the time and skill and effort put into the fasteners, body mounts, fittings and overall style really threw down the gauntlet for anyone thinking it would be easy to just 'throw together' an inline-6 and a roadster body and call it a day. We love this car for not only its quality of fit and finish, but those long, perfect chrome pipes that make it possible to use a 6-banger and still be stylish. This car proves that parts available to most of us can still be put together in a game-changing way.

Goozgaz' '60 Lincoln
Goozgaz' '60 Lincoln custom pretty much embodies what we love about the car club it (and he) belongs to: Los Boulevardos. These guys wrap customs, lowriders, the spirit of Larry Watson and a healthy dose of street culture into their cars and we see that as a whole new substrain of the culture. Gooz' Lincoln is fairly stock as far as the body goes, but its paint and interior are where the custom time was spent. We love the Gooz-mobile not only because it's a somewhat rare model, but that it embodies everything we love about the Sixties custom paint revival. And it's freakin' HUGE. Was there a bigger car than the '60 Lincoln? We've seen a ton of new builds following this trend, but the Linc's mixture of panels, scallops, lace and metalflake on the outside and the accessories, angel hair and retro phone on the inside rule them all.

Jimmy Shine's '34 Ford pickup
We've talked about Jimmy's '34 pickup at length in our "History Of The Rat Rod" (here), but it was on the road and in the magazines as early as 2001, so it fits the criteria and we'll at least say this: We love this hot rod because it embodies the original ideals of the Rat Rod movement that changed hotrodding into the new millenium. Jimmy proved that bare metal IS a finish and 'traditional' doesn't have to be boring and slow. This truck is proof that a rat rod is also a show rod that is also a breathing, driving, ass-kicking hot rod. We've said it before, but Jimmy drives it like he stole it and that's just good style, right there.

Scotty Strebbel's '30 Model A truck
We're gonna round out the Top 10 list with a hot rod that doesn't exist anymore. Scotty's Model A truck hit the scene early in the decade and was one of the first to sport a certain 'theme' style. At the time, his "Army truck" really floored people and was displayed at shows alongside the Shine '34 (above) as a good example of the North-meets-South Rat Rod movement happening in California. Yes, it's another Model A in the list and yes, it has that dragster influence you've no doubt noticed as a thread throughout our choices. But Scotty's truck was our favorite example of one of the earliest take-no-prisoners style that has been embraced in so many great ways ever since. The truck was street-driven with its bare slicks, no front brakes, vintage 18″ magnesium spindle-mount frontrunners and open headers. Scotty proved that full-race trim was able to be driven and drive it, he did. Find yourself wondering if that 'chute works? Unfortunately, the truck was wrecked one fateful night years ago, but we include it to our Top 10 posthumously. Damn, we miss that truck.